For this issue we visit a couple who live in one of the original 55+ communities in the South Bay. The 600 homes in New Horizons were built in the early sixties. Most units have seen some remodelling, while a few have been extensively redone.
The basic units come in three configurations. The two story structures comprising the two most common, with single level 'A' units on the ground floor, and single level 'B' units upstairs. There are 237 each of the 'A' and 'B' units in that configuration.
The two story buildings have downstairs units with essentially no stairs, and a nice patio, frequently enclosed in a wooden fence. The upstairs units have a large balcony off the living room.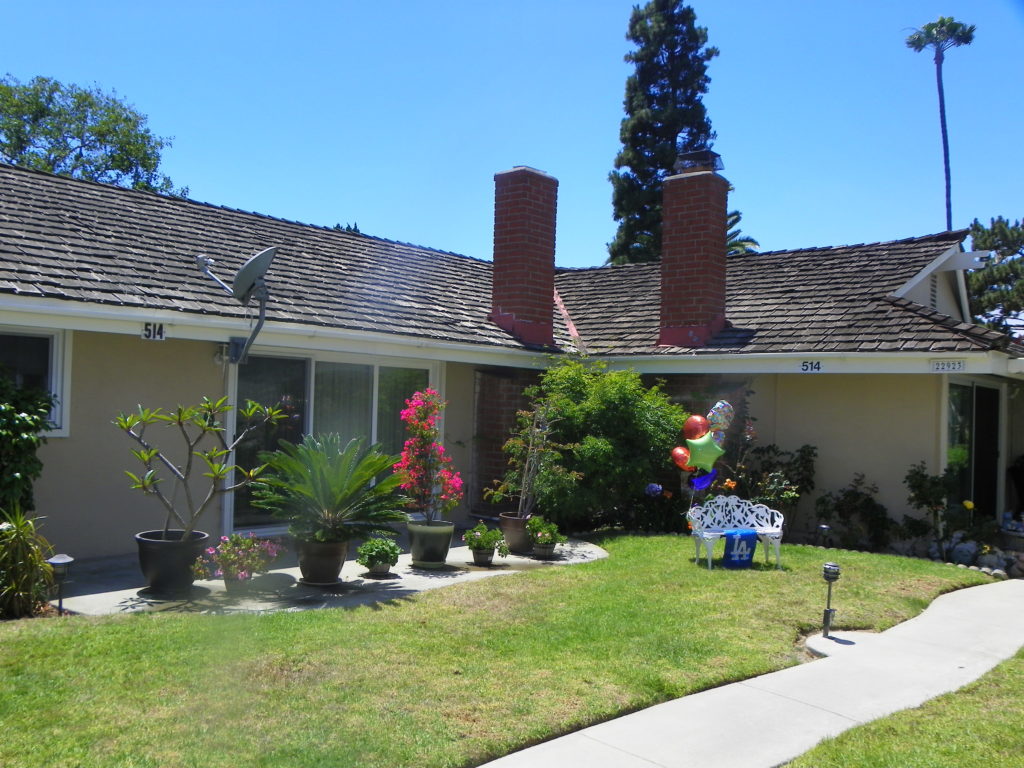 The third style is the highly sought-after bungalow with a total of 126 units. Each ground level building has three units, most in a staggered pattern to minimize shared walls.
Approximately 400 of the 600 units are identified as occupied by the owners. In many cases the official ownership record reflects the names of future heirs. Some units are occupied by seniors, but owned by investors, and we've found that often neighboring seniors will purchase available units for their own investment portfolio.
For this visit to New Horizons we're talking to DeeDee and Arlo (names have been changed) who live in an upper story unit in one of the two story buildings.
Q1: How long have you lived here?
DD: "We bought here seven years ago. It was just what we were looking for. The owner had done a lot of upgrades, so we have dual pane windows & patio doors, and tile floors. A lot of things other units don't have."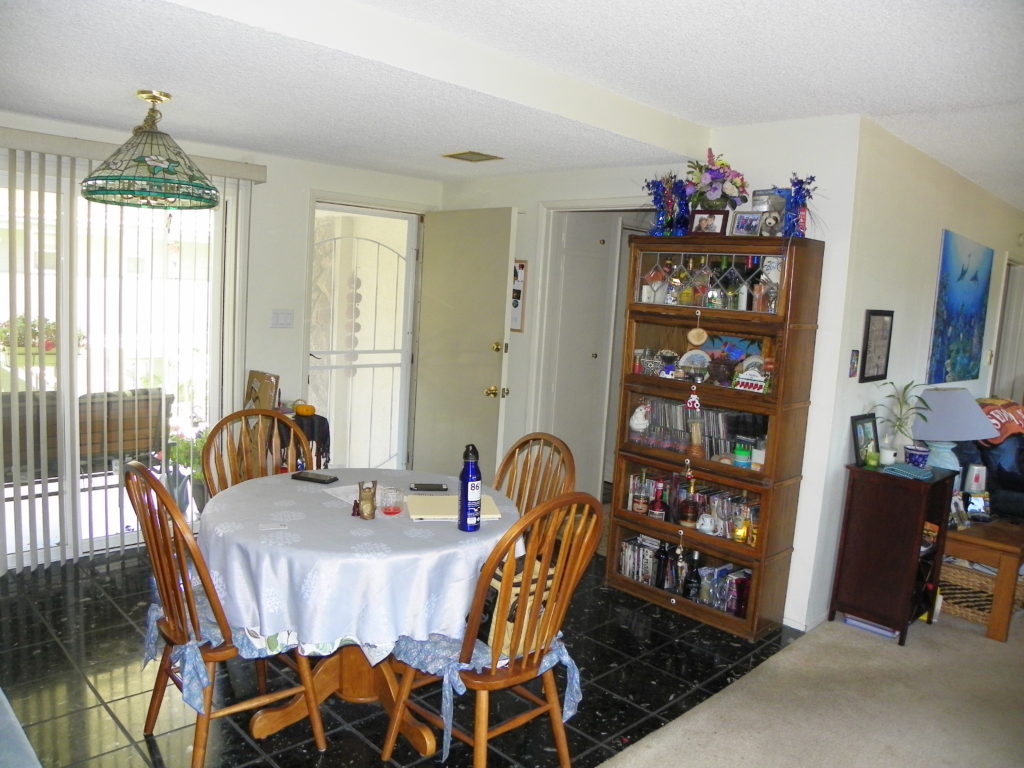 Q2: Is it your first time living in a condominium?
DD: "We've both lived in an apartment before. This isn't much different, except for involvement in the association. I was on a committee for a while, but it was too much. After I retire, I'll get more involved … maybe."
Q3: Have you made new friends here?
DD: "Lots of them! We're friends with just about everyone in our building and the one facing us."
AR: "It's like a little Mayberry here. Everyone knows everyone and everything that's going on. It's really nice because the neighbors are very watchful. We know when there's a stranger around, or a wild animal comes visiting."
Q4: Have friends from your old neighborhood come to visit? What did they have to say about your new home?
DD: "We've had old friends come by regularly. There've been many family birthdays, and even super bowl parties! Everyone likes it. It's much bigger than most condos."
Q5: Obviously there are things you like and some you don't care for. What is your favorite part of living here?
DD: "I play Bunko every second Tuesday. It's fun and I've met a lot of new people–mostly ladies–that way."
AR: "I love the green. Everywhere you look there's grass, trees, planters, and things growing. The golf course is especially nice with the lake and fountains."
DD: "We're not at the beach, but being upstairs we get a nice cross-breeze. We wanted to be upstairs because of the extra light coming in and the upstairs units all have attic storage."
Q6: 55+ communities vary considerably in the amenities provided. What does the association provide that you like most?
AR: "We haven't even tried everything. There's a gym with showers, a wood shop with all kinds of tools, and a pottery shop with a kiln. There's a pool and hot tub here, bocce ball, and a bigger pool over by the recreation center. The rec center has ping pong, pool tables, card rooms, a meeting room with a stage and audio/visual equipment. There's even a library."
DD: "The association cares for the owners. One of our neighbors needed a lift chair to get upstairs to the second level. The HOA was totally cooperative."
Q7: How about the things you like least. What would those be?
AR: "There are all the usual things about living with other people–the gossip, pettiness, and perpetual complainers."
DD: "The garages are shared, and you can't really store anything in them."
AR: "Guests and delivery people have a hard time finding addresses. I usually have to go out to guide them in because there's a combination of block numbers, building numbers, street addresses and unit numbers."
Q8: What are your plans for the future?
AR: "For right now, we're staying right here. We've talked about moving to Temecula, but haven't looked into it."
DD: "We could swap to an inexpensive house there, but we really like being close to the beach and near family and friends."