Every year the National Association of Home Builders (NAHB) conducts a broad survey of professionals involved in the housing industry. The results of that survey are published as the Remodelling Market Index (RMI). Among other data collected are details about the improvements made by seniors who plan to live in their current home as long as possible.
The 'Aging-In-Place' data includes how many professional remodelers do it, how many of their customers are receptive to it and what kinds of projects are completed. Using data from NAHB's RMI survey for the 4th quarter of 2018, we look now at some of the specific types of Aging-in-Place projects undertaken last year.
It probably comes as little surprise to most readers that bathroom projects dominated the top spots. Over 80 percent of remodelers who answered the question reported installing grab bars, higher toilets and curb-less showers. The next-most-common project on the list, widening doorways, followed at a considerable distance (59 percent).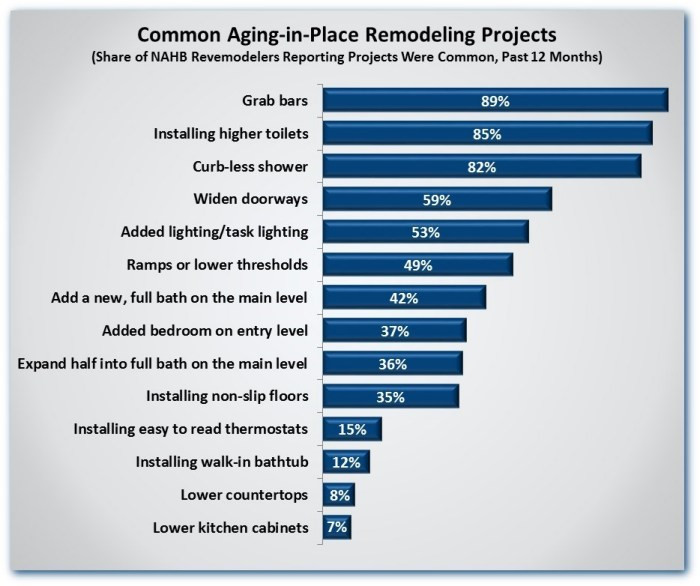 Much like the relationship between bathtubs and showers in general, walk-in bathtubs are not nearly as desired as curb-less showers. Only 12 percent of remodelers reported installing walk-in tubs in 2018, and only two of the 14 projects on the Aging-in-Place list were less desirable: lowering kitchen cabinets and lowering countertops.
When NAHB began asking Aging-in-Place remodeling questions in 2004, curb-less showers were about as common as wider doorways. But over the years the share of NAHB remodelers installing curb-less showers has grown, from 54 to 82 percent. Requests for curb-less showers are now nearly as common as higher toilets—even though installing higher toilets also reached an all-time high of 85 percent in 2018, up from 68 percent in 2004.
When the RMI questionnaire expanded in 2006, it started asking remodelers about reasons their customers undertake Aging-in-Place projects. Since that time "planning ahead for future needs" has consistently ranked as the most common motivation, cited by 75 percent of remodelers in 2006, and up to a record 86 percent in 2018.
"Acute age related disabilities" and "non-age disabilities" were also higher than ever in 2018, at 51 and 27 percent, respectively. This is only a 1 to 2 percentage point gain over their previous peaks, however.
Meanwhile, the share of remodelers citing "living with older parents" as a motivation has tended to drift downward over time, from over 50 percent in 2006 and 2007, to under 45 percent in 2016 and 2018.
For further results and more detail on the Aging-in-Place questions in NAHB's RMI survey, the complete report may be found at http://eyeonhousing.org/wp-content/uploads/2019/05/RMI-2018-Q4.pdf.