Born out of the Covid pandemic, Jodi Siegel's Songwriters' Showcase is an exceptional opportunity to hear original music played by the same people who created the songs. Jodi's been making music for a while, and claims many of LA's most notable musicians as close friends.
The folks that stop by the Project Barley Brewery on the third Tuesday of every month for Jodi's show are not your typical beer pub crowd. Many of them are musicians in their own right, and many are songwriters who have, or will, perform in a show. Indeed, audience members have been known to step up and fill in on a keyboard or with a guitar when a song called for another instrument.
Below we've included a pitch for the June Songwriters' Showcase. We go every month and are delighted every month!
Songwriters' Showcase – June 21, 2022

It's nearly summer and the music community is also warming up with gigs galore and music fun to be had everywhere you turn! I'm grateful to be working a bunch of local gigs too…but first check out the new songwriter's night coming up in less than two weeks!! June 21, 2022 I'm proud to host three good friends and killer songwriters: Harold Payne (Bobby Womack, Snoop Dogg), https://haroldpaynemusic.com/ Alfred Johnson (Rickie Lee Jones) https://www.facebook.com/alfredjohnsonmusic/https://www.facebook.com/alfredjohnsonmusic/ and the one and only Chauncey Bowers (new CD now available!) https://chaunceybowers.com/https://chaunceybowers.com/ It's also my Birthday on that night so it's gonna be a party!! As always come early to grab a table. This is a free event, donations go to the musicians.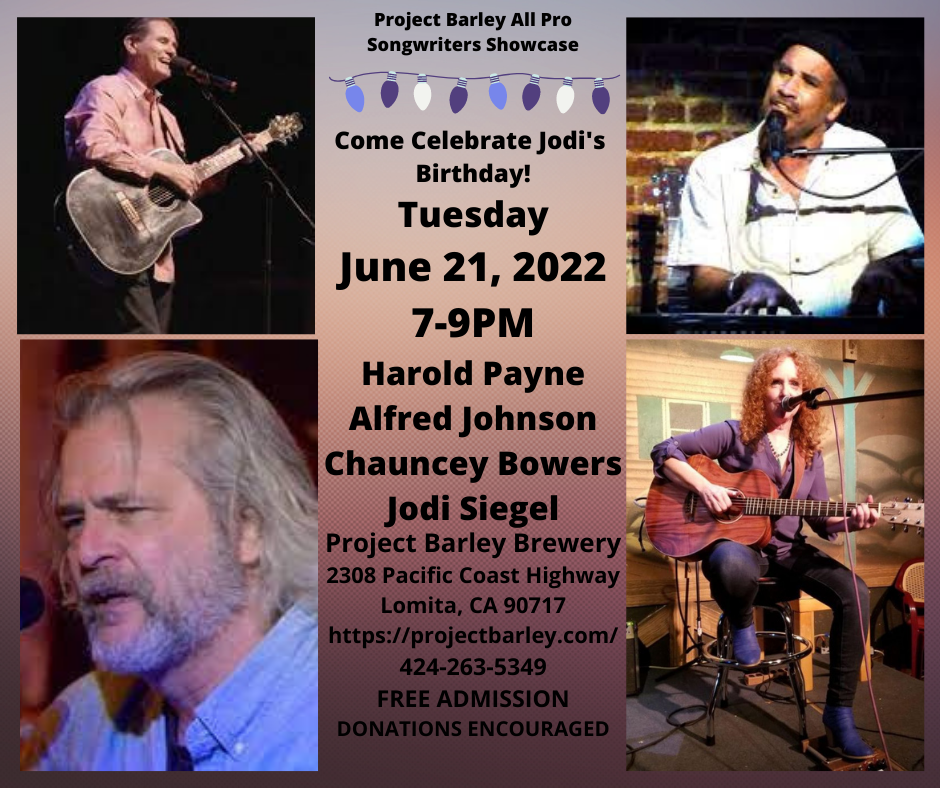 Project Barley's is located in Lomita (south of Torrance/Redondo on PCH). They have great food, wine and beer! ! For more information check out their website https://projectbarley.com/ MEET OUR NEW SONGWRITER'S SHOWCASE SPONSORS I adore these two wonderful folks! Everybody's cheerleaders in the music community!

For all your real estate needs give them a call or check out their website :https://carl-and-arda.beachcitybrokers.net/ TO CHECK OUT WHO IS COMING IN THE NEXT FEW MONTHS GO TO https://jodisiegel.com/songwriter-show