Median Price Tumbles
Last year ended with sales volume off, median prices coming down and revenue dropping fast. January showed little change. February of this year shows sales volume up from January by as much as 50%. The reason why is obvious–the median price is simultaneously dropping by percentages as high as 18%.
Comparing February activity to February a year ago shows significant declines in both sales volume and in median price. At that point in 2022 the market was just beginning to dip a toe in the recessionary waters. Now we're wading into it.
The first week of March Fed Chairman Jerome Powell told Congress, "…the ultimate level of interest rates is likely to be higher than previously anticipated." Powell's pointed remark clearly tells us the most recent pause in interest rate hikes is momentary. The lowest local mortgage rates we could find at the time was 6.75%. As such, we anticipate rates in excess of 7% by summer.
February Sales Volume Climbs
About the second week of January mortgage lenders began loosening the interest rates in anticipation of a relaxation by the Federal Reserve. For the most part, local rates stayed below 6% until late in February when the Fed began dropping hints that inflation was still raging.
After a "soft" January, sellers in the market were dropping prices and buyers responding positively by making offers. Now that mortgage rates have resumed climbing, sellers will have to drop prices some more to remain attractive to buyers.
With only two months behind us this year, there are indications lenders will "see-saw" the rates throughout the year. Already this year we have seen retail mortgage rates moving up and moving down without influence from the Fed. It seems to be an effort to induce buyers to accept high interest rates based on the theory they were higher last week so this temporary reduction is a good deal.
Revenue Climbs From January Depth
On a month-to-month basis, revenue across the South Bay is up 21% from January of this year. Don't get excited—it's only one month. January was one of the lowest performing months we've seen recently.
On a year-over-year basis, revenue is down 34% from last February! January was 38% lower than January of 2022. Year to date through February, revenue in the South Bay is down 36% and is expected to continue falling.
One of the more important statistics to note is how 2023 activity compares to 2019, which was the most recent "normal" year of real estate business. Across the South Bay real estate revenue for the first two months of 2023 is 7% below the same period in 2019. Restated, the South Bay has already lost over four years of gain in real estate revenue.
Median Price Slips, Volume Rises
More units of housing were sold in February than January, and the median price was lower in February. The Beach Cities saw a drop of 18% from January while the PV Hill held the decline to 3%. The Harbor area fell 4% and the Inland area dropped 14%.
Comparing February of this year to February of 2022 brought a harsher focus to the picture. All four areas have fallen from last years median price. The Beach is down 17%, the Harbor down 11%, the Hill is off 29% and the Inland cities down just 3%.
2023 Versus 2019 Shows a Sinking Market
The summary numbers comparing the first two months of 2023 to the most recent "normal" year of 2019 are not encouraging. Overall, sales revenue has fallen 7% below revenue figures for the same period in 2019. The Harbor area has fared the best, showing a 9% increase in revenue over January and February activity in 2019. Of course, that was four years ago and classic inflation would give that type of gain. It's clear the "inflation on steriods" we've been experiencing is gone from the real estate industry.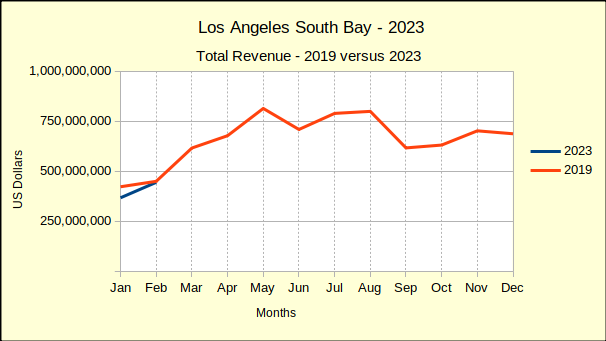 The Beach cities provide an excellent indication of where the real estate economy is going. The first two months of revenue for 2023 is down 32%. Palos Verdes is down 2%, while the Inland area is up be a mere 1%. After four years of pandemic, recession, inflation and Federal Reserve manipulation the real estate market is tanking.
Disclosures:
The areas are:
Beach: includes the cities of El Segundo, Manhattan Beach, Hermosa Beach and Redondo Beach;
PV Hill: includes the cities of Palos Verdes Estates, Rancho Palos Verdes, Rolling Hills and Rolling Hills Estates;
Harbor: includes the cities of San Pedro, Long Beach, Wilmington, Harbor City and Carson;
Inland: includes the cities of Torrance, Gardena and Lomita.
Photo by Ussama Azam on Unsplash