In August the South Bay real estate market showed some slowing of what has seemed a continuing slide into negative numbers. Closed transactions showed a partial recovery from the July report of declining sales and declining values, across both the past month and the past year.
August showed positive growth over July in sales volume except for transactions on PV Hill. Median prices compared to July were down except at the Harbor.
Annual statistics were similarly mixed with notable increases in sales at the Beach and Inland areas. Median prices compared to August of last year with modest increases in the Beach Cities and Harbor Area.
Beach Cities Show Strength in August
Sales volume at the Beach seemed surprisingly strong, however a look back in history reveals weaker than normal sales in July of this year and August of last year. The 127 units closed in August was much more in line with expectations, than the 91 sold in July or the 103 sold in August of 2022. Sales in a normal year would come in at about 125-135 units, showing that the Beach Cities are currently close to a normal number of transactions for the month.
Median prices came in negative compared to July, though less than a 1% drop. Last year's weak sales led to an increase of 2% in median price this August, despite an overall downtrend for the year. Hypothetically, assuming the Federal Reserve policy of 2% growth, median price at the Beach should have been about $1.62M in August. As the market stabilizes from the pandemic, the median has steadily dropped from a high of $1.76M in April to the August actual of $1.67M..
Year to date transactions showed a continuing decline in sales volume (-19%) and median price (-4%) versus 2022. Likewise, sales volume was off 31% compared to the baseline year 2019. Median price is still coming in positive compared to the baseline, up 28% from 2019.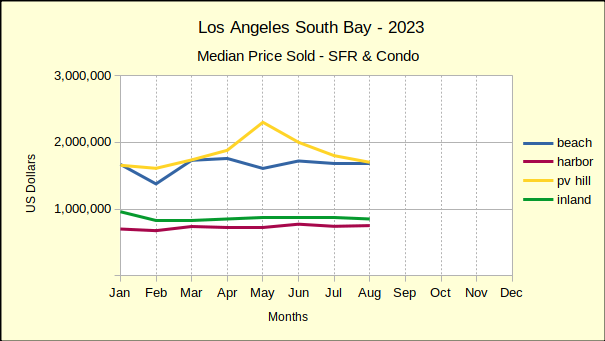 August Harbor Area Sales Climb
Looking at August versus July of this year shows Harbor area sales volume up a healthy 22%. While the month over month numbers are positive, sales are off 8% compared to the same month last year. For perspective, note that in 2019, the last normal year of business, there were 436 homes sold compared to 328 this August. Using that reference point, monthly sales are off by 25%.
Median price for last month was $751K, up 1% from July and up 4% over August of last year. Going back to 2019, the median was $575K, giving the current median price an increase of 32% over our baseline year. At the same time, the high median for this year was in June at $772K, and the lowest was $675K in February.
Year to date, the number of homes sold at the Harbor is down 22% from last year and likewise 22% from 2019.That decline in sales volume is driven by the increased median price which is up 32% compared to the first eight months of 2019. Being generally an entry level market, the Harbor area has shown a drop in sales every month of this year. Likewise, the year over year median price has dropped every month until August.
Palos Verdes Volume and Prices Drop
Sales and median prices were mixed everywhere in South Bay except for the PV Hill. All the statistics for August went down on the Hill. Month over month saw a drop in sales of 2% and decline in median price of 6%. Both are modest changes by comparison to most of the South Bay, but are indicative of the direction of the market in general.
Looking at August of last year compared to August of 2023 shows a dramatic decline of 36% in sales volume. Closed escrows dropped from 77 units last year to 49 this year. Annually, median prices dropped 6%, the largest drop of the four areas.
It's important to note that in 2019, which being the most recent 'normal' year of business, August saw 90 units sold on the Palos Verdes peninsula. Monthly sales volume has dropped off by nearly 50% from the reference year.
Year to date through August shows sales volume down 25% from last year, with median prices falling by 10% over the eight month period. Comparing to 2019 year to date volume is off 21%, while median price comes in at 32% above the 2019 figure.
The disparity created during the pandemic is gradually leveling out as the year goes on. Palos Verdes median prices have fallen six out of eight months this year. The same has been true of the balance of homes sold in the South Bay.
Sales Up, Prices Down for Inland Area
From July to August transactions in the Inland area climbed 15%. Simultaneously, median prices fell by 2% for the month. January kicked off the year with a 16% increase in the median price. February saw that pricing promptly reverse and fall 14%. Since then sales volume has gradually dropped each month and median prices have shifted into a pattern of decline.
Year over year pricing numbers are nearly identical with a 15% jump in median price for January, followed by dropping prices every month since. Similarly, most of 2023 has seen falling sales for homes in the Inland area. So far, August has been the only month with growth in closed transactions.
Year to date statistics compared to 2022 have been much the same with the number of homes sold dropping by 17% and the median price down 2%. In keeping with the rest of the South Bay, comparisons to 2019 reflect sales falling 18% while the median price remains 32% above what it was before the pandemic.
Where Is the Real Estate Market Going?
The number of homes being sold has consistently fallen this year. Likewise, the median price of sold homes has generally been falling since the beginning of the year. The driver behind this has clearly been mortgage interest rates rising from under 3% to over 7% in a matter of months. The Federal Reserve managers have been very upfront about continuing these rates into the foreseeable future.
Most estimates state that about one third of potential buyers can no longer afford to continue with their purchase plans. We see a continued decline in the median price, as sellers find it impossible to sell at the price points reached during the pandemic. When ''time on market' increases without a sale, sellers who 'must sell' will gradually lower prices.
Polls are showing those who aren't compelled to sell are finding it hard to let go of mortgage interest rates below 5%. This reluctance, combined with the sliding median prices, will contribute to more stagnation in the market.
Photo by Carl Clark